— English below
"Single-use"-Gebäude gehören der Vergangenheit an. Die gegenwärtige Pandemie hat uns allen deutlich gezeigt, dass Menschen einen Ort brauchen, an dem sie miteinander in Kontakt treten können, und dass Gebäude mehr als nur einem Zweck dienen müssen. Aus unserer Sicht sind Co-Spaces die Zukunft des Wohnens, Arbeitens und Connectens. Sie vereinen die unterschiedlichen Aspekte des Lebens in Räumen, deren Bestimmung sich nach den Bedürfnissen der Nutzer*innen richtet. Ob Sie das Space Ihr Zuhause nennen, dort gerade Freunde treffen oder an Ihrem Lieblingsprojekt arbeiten – Co-Spaces machen es möglich, alles an einem Ort zu vereinen: Unter einem Dach zu leben, zu arbeiten und zusammenzukommen.
Das "Co" in "Co-Spaces" steht nicht nur für die flexible Community, sondern auch für die Idee der Kollaboration. Als Co-Space-Betreiber denken wir ständig über das Leben unserer Bewohner nach und wie wir das Zusammenleben sowohl in den Wohnräumen als auch auf den Büroflächen bestmöglich gestalten können. Darüber hinaus glauben wir, dass Co-Spaces ideal sind, um Business-Gemeinschaften zu fördern. Der Kaffee stammt aus einem Café um die Ecke und die Kunst an den Wänden von lokalen Künstlern. Vielleicht bringt das neue Pflanzen-Start-up den Menschen in der Community bei, wie sie ihre Pflanzen am besten pflegen oder ihr eigenes Zitronenbäumchen im Zimmer anbauen. Was auch immer passiert – Zusammenarbeit geschieht immer dann, wenn wir unser einzigartiges Know-how und unsere Ideen in der Gruppe zusammenbringen. Und genau deshalb sind wir so begeistert von den Business-Communities in unseren POHA Houses und dem elektrisierenden Gefühl von Kreativität und Innovation, das dort versprüht wird. Unsere erste Kooperation besteht zurzeit im POHA House Essen. Bis zum 25.09.21 zeigen wir dort die Ausstellung "Absorption" des Künstlers Asad Raza.
Während wir uns auf die Eröffnung des POHA Houses in Essen vorbereiten, möchten wir uns schon jetzt der dort bereits starken Community innovativer Unternehmen anschließen. Wir möchten gemeinsam an Ideen arbeiten, durch die wir Essen zu einer der lebenswertesten Städte Deutschlands machen. Um die Reise dorthin zu beginnen, haben wir eine Mapping-Landschaft erstellt, die zeigt, wie das POHA House Essen mit der lokalen Geschäftswelt interagieren möchte.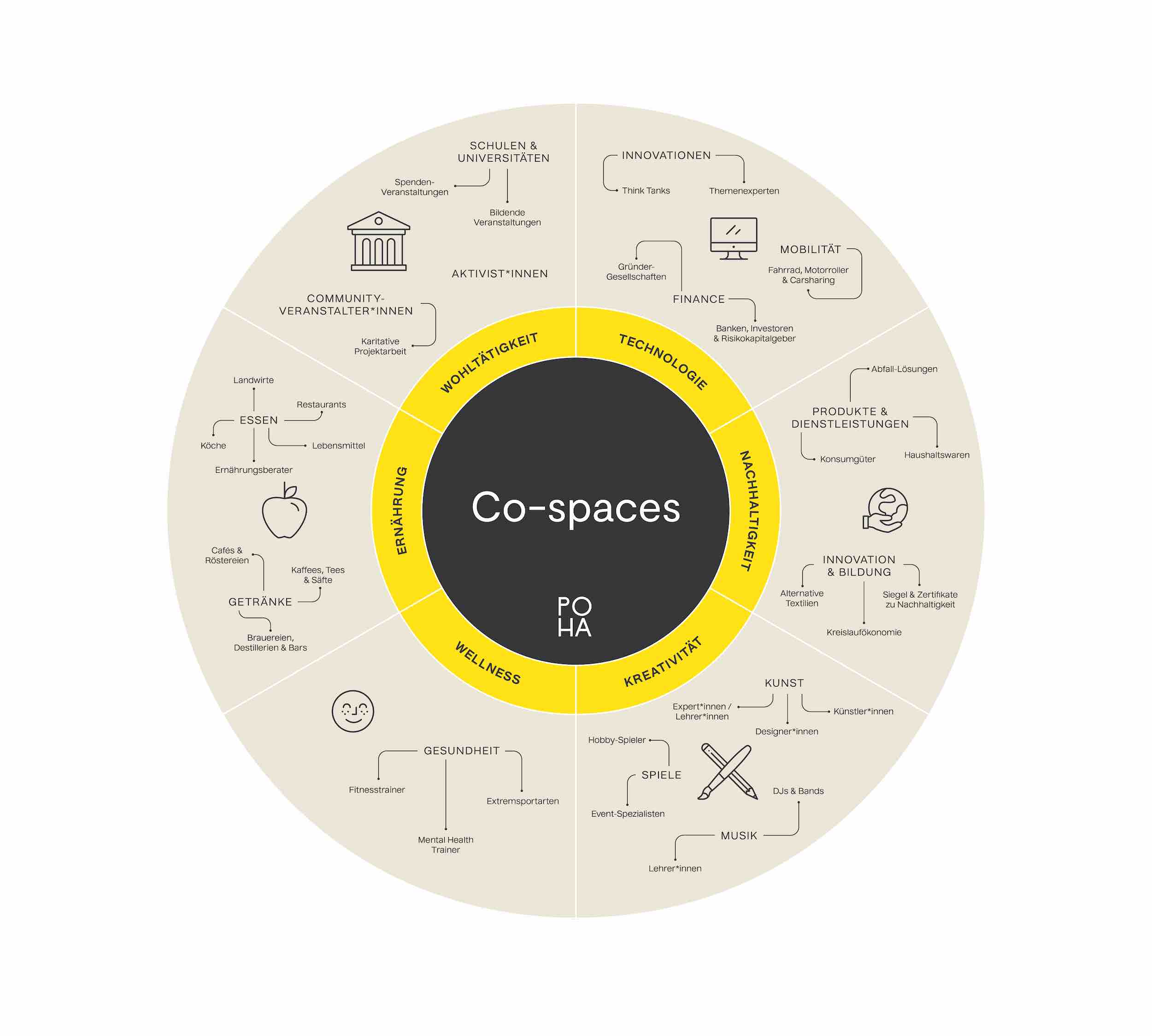 Single-use buildings are a thing of the past. With a pandemic in our present and very recent past, it has become apparent that people need a place to connect, and buildings need to be able to serve more than one purpose. As we see it, Co-spaces are the future of living, working, and connection. Celebrating all the aspects of life that are in spaces that are designated to be whatever we want them to be. Whether you call the space home, are attending a get-together with friends, or are simply getting some work done on your passion project, Co-spaces somehow make it possible to do it all in one place; to live, work and come together under one roof.
 The word "Co" in the Co-spaces model not only applies to the product's flexible community, but also to the idea of collaboration. As a Co-space operator, we are constantly thinking about the lives of our residents and how we can make cohabitation the best it can be both in the living spaces and the office. But beyond that, we believe that Co-spaces are an enabler for business communities to thrive. The coffee served is from a local shop down the street, the artwork that lines the walls of the community space is a celebration of local creators. Maybe the community's new plant start-up has an idea about how to use the space to teach people how to best care for their plants or grow their own lemon tree in their room. Whatever it is, collaboration happens when we bring our unique expertise and ideas together, and there is no better way for us to embrace that sentiment than by embracing the business community around us. Our first collaboration is happening right now at POHA House Essen (until 25.9.21) with artist Asad Raza showcasing his exhibition "Absorption."
As POHA House prepares to enter the city of Essen, we want to join the already-thriving community of innovative businesses, find out how we can work with them, and ultimately collaborate on ideas about how to continue making Essen one of the best cities in Germany. To begin our journey down this path, we have created a mapping landscape of how POHA House Essen hopes to interact with the local business community.